Cambodia cultural trips and tailor-made holidays in Cambodia
We are specialized in creating tailor-made holidays in Cambodia according to your wishes or for a group tour through Cambodia with your friends.
The themes can be in Cambodia cultural tours, leisure vacations, adventure travel, luxurious trips or a beach holiday.
Cambodia travel tips, a choice of destinations also combinable as tailor-made individual trips to Cambodia.
Some of our favourite places and itineraries:
A classic tour of Cambodia including the high-lights, 12 days:
You will start your encounter with Cambodia and it's people by flying into Siem Reap/Angkor via Bangkok or Saigon, acclimatize and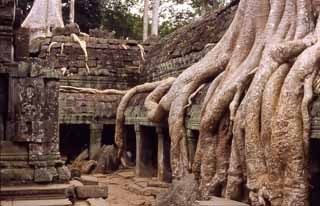 explore the amazing, sprawling sites of Angkor for at least 3 days / 4 nights. After experiencing the glorious past you can either travel overland or, depending on your choice, enjoy a journey by boat across the vast and unique Tonle Sap Lake to Phnom Penh, and gain a glimpse of what life in Cambodia is all about. After discovering Phnom Penh with it's old and more recent history, you will travel to the lovely coast and relax for a few days at one of the beaches at Sihanoukville or Kep, before returning to Phnom Penh and board your plane for the onward journey.

Siem Reap / Angkor Wat
Experience the sunrise at Angkor Wat, or at one of the city gates of Angkor Thom. Explore scenic Ta Phrom still being conquered by the jungle. Face the Bayon and venture into a few other of these fascinating temples. And reserve half a day for an excursion out to Banteay Srei and the River of Lingams. Or relax a day on a boat cruising Tonle Sap lake and visit the Biosphere Reserve.
Siem Reap is a nice, relaxed town and it is advisable to spend at least 3 full days for the relevant sites. You also could travel from Siem Reap via Battambang to Phnom Penh, taking in the best of French colonial style architecture in Cambodia and experiencing a local town apart from Siem Reap and the capital.

Phnom Penh:
Phnom Penh has some exceptional cultural sights like the Silver Pagoda, the National Museum and the Royal Palace,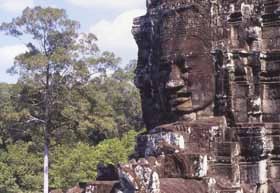 but you might want to have a look at Wat Phnom as well. Infamous Tuol Sleng Museum (S21) is part of Phnom Penh, but whether the Killing Fields of Choeung Ek should be on a program, I better leave up to you. The market Psar Thmei, built in Art Deco style, is always very interesting, and depending on your taste, the Russian Market might be as well. I always would recommend to relax a few hours at the coffee shops and restaurants along the river front observing local life.

The North-East - Ratanakiri and Mondulkiri:
Explore one of the remote regions and meet people of Cambodia's ethnic minorities, the Montagnards.
Fly onto the plateau of Ratanakiri and discover the surrounding villages in day-trips by hiking from Banlung, consider about 4 days from/to Phnom Penh.
Take a ride to Mondulkiri into densely jungle-covered mountains. This excursion is still only possible by road, for some stretches on a slightly exhausting track. Stay at Sen Monorom and embark on day excursion into surrounding villages from there, consider about 5-6 days from/to Phnom Penh.

Beach holidays:
Cambodia's best known white beaches are around Sihanoukville and vicinity. Even it is also a harbour city built only in the 1960s, life is slow and relaxed. Take a boat out to the islands and marvel about underwater sights and crystal-clear waters, or explore the mangrove forests nearby.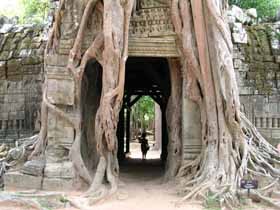 Kep is an old spa town from colonial times built early last century and situated further south down the coast-line. The place had been nicely restored in the 60s. The local beach is slightly shorter, but a couple of miles off the coast on the island of Koh Tonsay are exquisite beaches for swimming and snorkelling.
The region of Kampot has a few beaches as well, but development is going on and we can't recommend them yet. Bokor, Cambodia's only hill station at 3000ft is 40 km west of Kampot.

Cruises by boat:
Siem Reap - Battambang: An exciting cruise by private boat through the canals and rivers between Siem Reap and Battambang. Depending on water levels the journey takes between 7 and 9 hrs. Smaller boats make it in less time.
Siem Reap - Phnom Penh: The Russian speed boat does this route over the vast Tonle Sap lake daily in about 6 hours. If you prefer to travel on a private local boat with a few stop over on the way, allow 2 days for the trip to Phnom Penh. A few luxury liners also cruise to Phnom Penh and need 2 days as well including stop-overs. Accommodation is in luxurious cabins on board and excellent cuisine is included.
Phnom Penh - Vietnam: Another Russian speed boat makes the trip to the border town of Chau Doc in less than 3 hours. The luxury liners cruise on this route as well and continue their way through the Mekong Delta and all the way to Saigon in about 3-4 days, luxurious accommodation and food included.

Remarks:


Hiring a guide gives you 3 options: A) A guide accompanying you for the whole trip from arrival in Cambodia until departure, B) different local guides at different destinations, or C) just transfers and hotels (drivers usually speak some English). English speaking guides are widely available, other languages on request.
We joyfully also work on inquiries for tours or routes which are not mentioned here. This page has been created to allow you a general overview and enable you to see some possible options.