Tailor-made holidays in Laos - Cultural tours and adventure travel
Are you looking for a tailor made trip to Laos? We are specialized in advising, creating and supporting your tailor made holidays in Laos, be it a  your cultural tour to Laos, adventure travel in Laos, hiking tours, luxury holidays or leisure vacations.
Laos travel tips, a choice of destinations also combinable as tailor-made individual vacations in Laos.
Some of our favourite places and itineraries: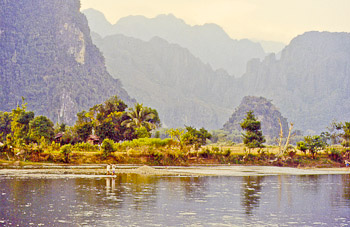 Round trip through Northern Laos, 16-18 days
The classical trip through Northern Laos starts by crossing the mighty Mekong from Chiang Khong (Thailand) to Huay Xai on the Laotian side. Here you board a boat and cruise down the mighty Mekong in 2 days until Luang Prabang, taking in gorgeous jungle scenery at the river banks on the way. The rivers are the traditional trading routes in Laos and this is an excellent opportunity of experiencing the life on the river and it's banks.
Luang Prabang, the old capital of the Lan Xiang kingdom, is definitely one of Asia's most enchanting and atmospheric places. Mountains overgrown with jungle, mellow and charming people, sleepy temples and a touch of French colonial style architecture complete this unforgettable experience. You might want to stay at least 3 days here to sample the easy life.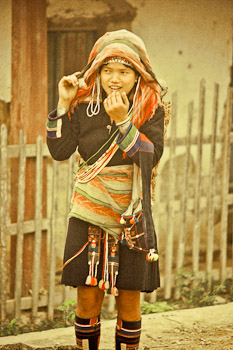 Hidden in the forested mountains of Northern Laos, the region offers many options to participate in and enjoy rural life with some of the ethnic groups living here. You embark on a 4-5 days trip further north, first by car to the upper reaches of the Nam Oo river and then down river by various boats over several days finally arriving back at Luang Prabang.
After a short rest in comfort at Luang Prabang you are off again to the mystical Plain of Yars in the remote North-East, and after exploring the sites move on to the packpacker paradise of Vang Vieng. Relaxing along the river, hiking through lime-cast mountain scenery or navigating the shallow river with a kayak. Leaving in the morning you reach Vientiane, the Laotian capital, in a few hour, and depart for Thailand the next morning.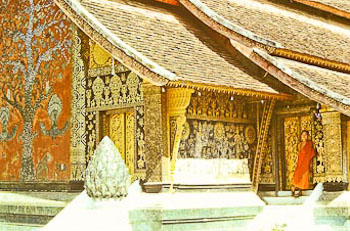 Excursions from Luang Prabang
The vicinity of Luang Prabang offers a wide variety of day excursions to minority villages, to waterfalls, caves or scenic spots, be it by bicycle, vehicle or on foot.
Further outside of town you can experience rural life for a few days in villages of the various ethnic minorities and learn about their way of life. These excursions last from 2 to 5 days and include daily hiking in gorgeous scenery for about 3 to 5 hours. Accommodation will predominantly be in villages of the Hmong and Khmu minorities at eco homestays.
With a slightly revised itinerary you can spend a few days in one of the lovely resorts out in the country, even with an elephant camp near by.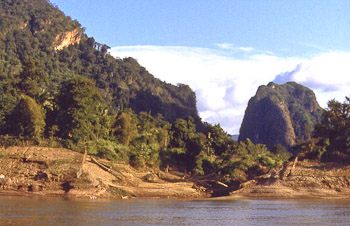 Nam Oo river cruise: Take a flight from Luang Prabang to Lunag Nam Tha, be picked up and drive into the extreme north of the country to Phongsali. From here you cruise by different boats in day sections down the scenic Nam Oo river all the way to Luang Prabang. Experience what traveling was like in the old days.( 6-7 days)
Plain of Jars: Enjoy an excursion into the mountainous Xieng Khuang Province in the remote North-East of Laos, and experience the mysterious Plain of Jars (5-6 days from Luang Prabang to Vientiane).
Ethnic Triangle: Or take a flight from Luang Prabang north-west to Luang Nam Tha and drive to Muang Sing. Hike a few days through the villages and enjoy the ethnic diversity in the border region of Laos, Myanmar and China. The people you will encounter are Thai Lü, Thai Neua, Iko, Shan, Hmong and Mien. Return overland by road to Luang Prabang. (5-6 days)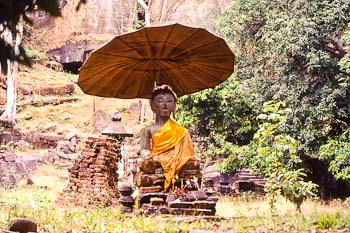 In the footsteps of Pathet Lao: A journey into the remote North-East to Sam Neua and Viengsay near the border with Vietnam, experiencing the cave system from where the Pathet Lao organized and waged their war and finally the overthrow of the old system in Laos. This trip can be combined with a few days cruising down the Nam Oo river and a visit to the plain of jars. Due to almost non-existant infrastructure this excursion is more on the adventerous side (8-12 days from Luang Prabang).

Roundtrip in Southern Laos
The classical journey through the South of Laos starts by arriving at Vientiane, the Laotian capital. Vientiane has a few interesting sites, which are well worth visiting, but nobody really stays much longer here. From Vientiane you travel by private car to the spectacular Khammouanne Reserve Park east of Tha Keak.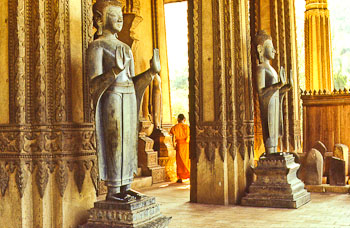 A boat ride through the long Thong Lor cave and once you reach the other side through the valley with lime-cast mountain formations on the idyllic Nam Hin Boun River is unforgettable. You will explore a few villages of different ethnic minorities and stay overnight at local houses in villages.
On you way south you brake the journey in Savannaketh and reach on the next day the cool Bolaven Plateau, famed for stunning scenery and excellent coffee beans. Explore the scenery and some villages with a local guide. Travel on to the city of Pakse und visit the mystical Vat Phou high above the Mekong, which has been a sacred place long before the Khmer invaded these lands. Towards the end of your trip wind down for a few days on the peaceful islands in the Mekong river near the border to Cambodia, before you travel back to Pakse and depart from there.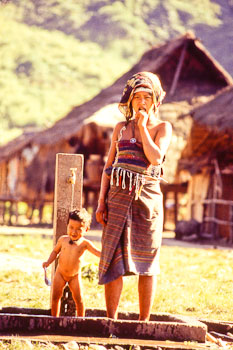 Other excursions in the South
The most interesting site to experience the Ho Chi Minh Trail along the Vietnamese border is about 170 km east of Savannakhet near Sepon. Remains are still present everywhere. (3-4 days)

River cruises in Laos
Transport by boats is available on almost all of Laos' waterways.
Luxurious boats are available on the stretch between Huay Xai and Luang Prabang (2 days/1 night) and in the south from Pakse to 4000 islands, which takes 3 days and 2 nights. The ships in the south have cabins for the nights. All boats have excellent cuisine and good service.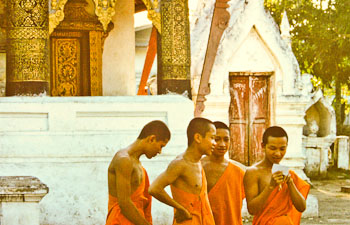 Laos in combination with outher countries in South-East Asia
In case you like to enter Laos overland through one of the adjoinng countries or you like to travel from Laos to another country overland, following border coss points are available:
China - Boten
Cambodia - Veun Kham
Thailand - Huay Xai, von Nakon Phanom, Savannakhet, Champassak, Muang Ngeun and Phou Do
Vietnam - Xieng Khouang, Attapeu, Khammouanne, Houaphanh, Bolikhamsai, Salavan and Savannakhet

Remarks:
Traveling with a guide gives you 2 options: A guide accompanying you for the whole trip from arrival in Laos until departure, or you have different stationary guides at each region. Another option would be to book accommodation and transfers only, but in general a local guide is recommended, especially on over-land trips.
We joyfully also work on inquiries for tours or routes which are not mentioned here. This page has been created to give a general overview and enable you to get an idea about possible options.